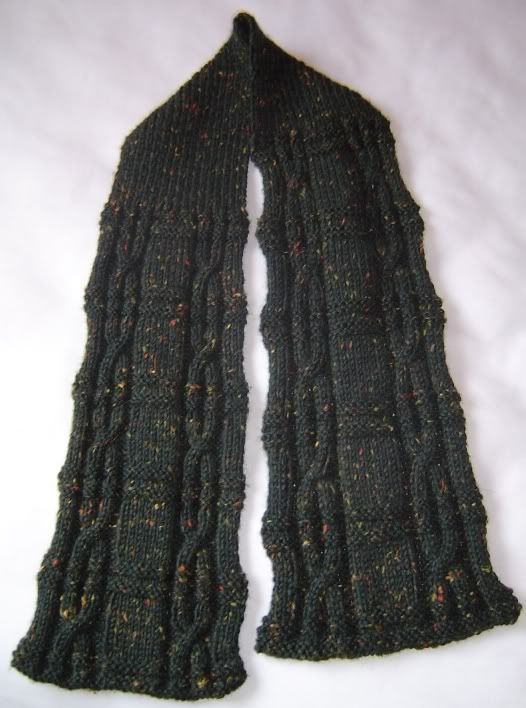 Et
voila, here it is, my first
FO
since I started blogging a whole, uh, week ago. It's the Windowpane Seaman's Scarf, a likely Christmas gift for my Dad, who I assume won't want a scarf for his birthday in August when it's 97 degrees with 99.9% humidity.
The blocking went fairly well for a change, minus the cat trying to "help" pin it in place with her claws, but couldn't fix the one major problem--I spent several months working on this scarf intermittently, and unfortunately one end is knit much more tightly than the other. You can see the scarf is divided into 3 sections, 2 cabled sections with a ribbed section in the middle. One cable panel is significantly longer than the other--had it been just a
smidge
longer, I might have been able to even it out during blocking, but it's a good few inches. Ah well, I'm sure he won't mind. Maybe he won't even notice. Otherwise, I'm pretty happy with it; it's soft and cozy, and unlike every other scarf I've made to date, it doesn't curl!
As some visitors might know, I've basically been a hobo since I finished graduate school last May--I've been diligently looking for a job (and being oh so benevolent, doing volunteer work in the meantime), and now, finally, after dozens of interviews, a few positions falling through, and a brief substitute stint teaching Spanish to extremely disinterested high school boys, I think I actually have a job. I'm trying not to get overly excited, as I'm waiting on a formal offer, but having received a "We want you for this job; bear with us while we slog through the paperwork!" email, I think this is it. Hurrah! On the downside, I will have a very lengthy commute; I will, I suppose, have some time to knit on the Metro, at least.